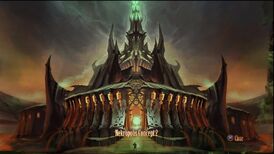 In the Nekropolis, the player can view concept arts, character bios, and listen to music from certain arenas in the game. The character bio allows the player to get a full view of any playable character model in the game, look at their alternative costumes, view the damage that can be done to a kombatant, and their endings. The player can also see how much time has been devoted to the kombatant, how much blood the kombatant spilt, and how many Fatalities and X-Ray Moves have been performed with the kombatant.
Trivia
Through hacking, the bosses' Bios and Endings were found in the Nekropolis.

Also, Skarlet's 3D Model and alternate costume were found.

DLC characters were not present in the Nekropolis in the game's original release; however, they were added for the Komplete Edition.