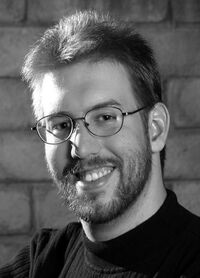 Patrick Seitz (born on March 17, 1978 in Riverside, California) is an American voice actor, script-adapter and ADR director, primarily known for his work in anime and video games.
Mortal Kombat
He voiced Deathstroke, Shao Kahn and Scorpion in Mortal Kombat vs. DC Universe. He also voiced Scorpion and Freddy Krueger in Mortal Kombat (2011). Patrick again reprised his role as Scorpion in Mortal Kombat X.
Other roles
He also voiced Jin Kazama in Tekken: Blood Vengeance (credited as Darren Daniels) and Bob in Tekken 6. Recently, he voiced Hugo in the game Street Fighter x Tekken. Currently, he is famous for voicing Ragna the Bloodedge in the Blazblue series.