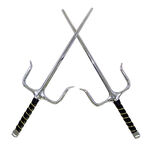 Sai blades are weapons used by a handful of ninja. Sai are a very specific type of dagger. Mileena is the traditional user of the Sai blades in the series; however, Li Mei borrowed them in Mortal Kombat: Deadly Alliance due to Mileena being absent in the game. Sareena also used the Sai in Mortal Kombat: Tournament Edition. Khameleon also uses them in Mortal Kombat Trilogy. Mileena uses the Sai as her handweapon yet she also uses it as a Projectile (included in Fatalities).
Gallery
Ad blocker interference detected!
Wikia is a free-to-use site that makes money from advertising. We have a modified experience for viewers using ad blockers

Wikia is not accessible if you've made further modifications. Remove the custom ad blocker rule(s) and the page will load as expected.