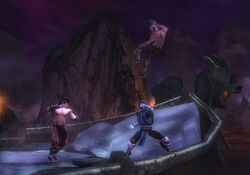 The
Sea of Blood
is a dangerous place found near the
Wastelands
in the
Realm
of
Outworld
.
This entire lake was filled with blood. The souls of the dead that are there are put to use with their bodies added to the sea of the blood of the damned.
Those that traveled the sea through boat were often challenged by bloody Undead skeletons that boarded their craft and attempted to kill the living.
During their quest in Mortal Kombat: Shaolin Monks, Liu Kang and Kung Lao traveled across it with the younger Sub-Zero.
Ad blocker interference detected!
Wikia is a free-to-use site that makes money from advertising. We have a modified experience for viewers using ad blockers

Wikia is not accessible if you've made further modifications. Remove the custom ad blocker rule(s) and the page will load as expected.