Shaolin Monk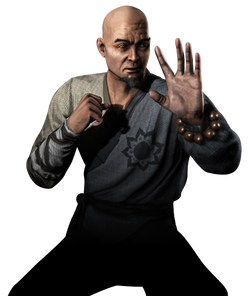 A White Lotus Shaolin Monk
Shaolin Monks or Chinese Buddhist monks have been traditionally and stereotypically linked with the practice of the Chinese martial arts or Kung Fu, and monks are frequently important characters in martial arts films. This association is focused around the Shaolin Monastery. The Buddhist monk Bodhidharma, traditionally credited as the founder of Zen Buddhism in China, is also claimed to have introduced Kung Fu to the country. This latter claim has however been a source of much controversy (see Bodhidharma, the martial arts, and the disputed India connection). One more feature about the Chinese Buddhist monks is that they practice the burning marks on their scalp, finger or part of the skin on their anterior side of the forearm with incense as a sign of ordination.
In Mortal Kombat
The Shaolin Monks have the Wu Shi Academy and Shaolin Temple as their training grounds. They were attacked by Baraka and the Tarkata in MKII and a lot of them, were killed by Zombie Liu Kang, the enforcer of a corrupted Raiden in MKD.
They are a common enemy in Mortal Kombat Mythologies: Sub-Zero and they use a variety of weapons.
Gallery
Ad blocker interference detected!
Wikia is a free-to-use site that makes money from advertising. We have a modified experience for viewers using ad blockers

Wikia is not accessible if you've made further modifications. Remove the custom ad blocker rule(s) and the page will load as expected.