Ad blocker interference detected!
Wikia is a free-to-use site that makes money from advertising. We have a modified experience for viewers using ad blockers

Wikia is not accessible if you've made further modifications. Remove the custom ad blocker rule(s) and the page will load as expected.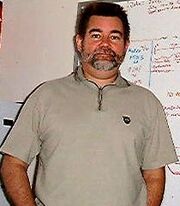 Steven Scott Ritchie (born February 13, 1950) is an acclaimed pinball and video game designer who has worked for Atari, Bally Midway, Williams and Stern Pinball. Some of the games he worked on include
Airborne Avenger
,
Firepower
,
Black Knight
,
High Speed
, among other titles.
Dubbed "the King" by Ed Boon, Ritchie has supplied the voice of Shao Kahn in Mortal Kombat II, Mortal Kombat 3 (and its updates) and Mortal Kombat: Shaolin Monks. During production of the first game, it was known as "Mortal Combat" until Ritchie suggested changing the "C" to the "K".