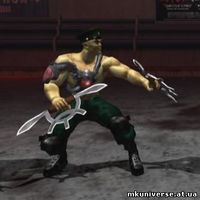 The
Sun-Moon Blades
are weapons used by
Hsu Hao
in
Mortal Kombat: Deadly Alliance
and
Mortal Kombat: Armageddon
.
Overview
An exotic weapon of the Chinese martial arts, the Sun-Moon Blades originated in Mongolia. As a pair, these bladed weapons can be extremely efficient when used in combat. When one hand blocks an incoming attack, it can catch the weapon and keep it from attacking, or be used to disarm the opponent totally. However, the true beauty comes into play when one notices that the other hand is left free to attack. This is when the versatility of the Sun-Moon Blades really shines. With the ability to thrust, stab, slash, or rake an opponent, the Sun-Moon Blades' deadly qualities are easy to see.
Ad blocker interference detected!
Wikia is a free-to-use site that makes money from advertising. We have a modified experience for viewers using ad blockers

Wikia is not accessible if you've made further modifications. Remove the custom ad blocker rule(s) and the page will load as expected.