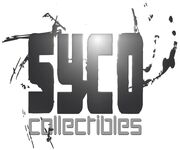 Syco Collectibles
is a specialty manufacturer of licensed and proprietary collectible products. With our commitment to detail and creativity, the products will reflect our passion for creating unique, highly sought after figure collectibles.
Syco Collectibles sculptors, experienced model makers, and painters will result in the creation of outstanding designs and extremely detailed sculpts of comic icons, video game characters, villains, heroes, fantasy creatures and legendary figures. Our talented team of artists will bring you a range of collectibles that will surpass ours and your expectations. We are acquiring new licenses from some very famous brands and we continue to work with highly skilled sculptors and manufacturers to maintain the style and handcrafted feel of our products and to make new and exciting products even more collectible and valuable.
Mortal Kombat Collectibles
Syco Collectibles is proud to be able to reveal its first range of collectibles for the Mortal Kombat Brand. We have launched a range of Statues & Busts based on the recently launched Mortal Kombat 9, video game. The first releases are of Scorpion & Sub-Zero. We have a full range of all the characters coming shortly behind these, such as; Raiden, Mileena, Liu Kang, Johnny Cage, Shao Kahn and many more. These will come in a range of different versions such as the 10 Statues, that will be in more of an action pose, 18 Premium Format Statues that will be in more of a classic pose and 1:2 Scale Busts.
Both the Scorpion and Sub-Zero statues come with LED light-up eyes! Also, available is a Limited Edition, Exclusive 10" Scorpion statue, the difference here is that he comes with a changeable, alternative skull head, complete with an LED light in his remaining eye. Two other variants are present in the form of a Limited Edition 18" Sub-Zero Premium Format statue, complete with white, LED light up eyes and an alternate; changeable head with his regular eyes intact! The second is an incredible 1:2 scale Scorpion Bust with the Limited Edition Exclusive variant featuring white, LED eyes!
Gallery
External Links
Ad blocker interference detected!
Wikia is a free-to-use site that makes money from advertising. We have a modified experience for viewers using ad blockers

Wikia is not accessible if you've made further modifications. Remove the custom ad blocker rule(s) and the page will load as expected.