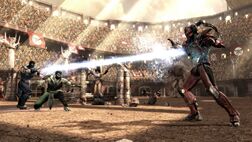 Tag Team Ladders are a form of Arcade Ladder introduced in Mortal Kombat (2011). In Tag Team Ladders, the player could either play with a friend or as another character and play 2-on-2 battles. When the player(s) reach the sub-boss Shang Tsung, they become 2-on-1 battles from then until they defeat Shao Kahn.
After defeating Shao Kahn, both characters' ending unlock. First character's ending will be shown after the fight and if the player wants, he/she can see the other one's ending in Nekropolis.
Gallery
Ad blocker interference detected!
Wikia is a free-to-use site that makes money from advertising. We have a modified experience for viewers using ad blockers

Wikia is not accessible if you've made further modifications. Remove the custom ad blocker rule(s) and the page will load as expected.