Ad blocker interference detected!
Wikia is a free-to-use site that makes money from advertising. We have a modified experience for viewers using ad blockers

Wikia is not accessible if you've made further modifications. Remove the custom ad blocker rule(s) and the page will load as expected.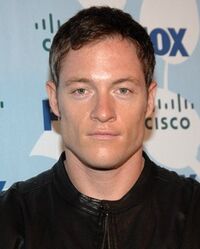 Tahmoh Penikett
(born on May 20, 1975 in Whitehorse, Yukon, Canada) is a Canadian actor best known for his work on TV as Captain Karl 'Helo' Agathon on
Battlestar Galactica
, Troy Hammerschmiddtt on
Titan Maximum
and Paul Ballard on
Dollhouse
.
He plays the part of Kurtis Stryker in the Warner Premiere produced web series Mortal Kombat: Legacy.
However, he wouldn't return in season 2, writing on his Twitter:
"Unfortunately, not. There was discussion about it, but it didn't work out."
Gallery