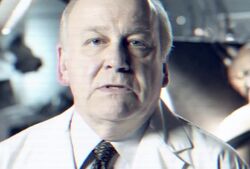 "The Doctor" is an original character featured in Mortal Kombat: Legacy.
Though unnamed, he plays a prominent role in both episodes he appears in. Chronologically appearing for the first time in the ninth episode, the Doctor is responsible for overseeing Sektor and Cyrax's conversion into Cyborgs, and during the episode he makes several video documents detailing the upgrades the two are receiving over the first Lin Kuei Cyborg, Hydro. The Doctor, along with the Grandmaster and Kano, then observe Cyrax and Sektor's battle against Hydro, with the doctor confident in the two latest Cyborgs.
Though the two struggle at first, they ultimately manage to overcome Hydro and Cyrax delivers a Fatality on him, proving the two the superior models. The Doctor urges the Grandmaster to fully convert the Lin Kuei into the Cyber Initiative.
He appears for the first time in the second episode of the series in the final shots, overseeing the operation that gives Kano his cybernetic eye implant.
See also
Ad blocker interference detected!
Wikia is a free-to-use site that makes money from advertising. We have a modified experience for viewers using ad blockers

Wikia is not accessible if you've made further modifications. Remove the custom ad blocker rule(s) and the page will load as expected.