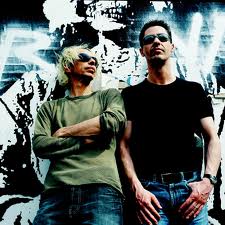 The Immortals
are a techno band from Belgium consisting of Maurice Engelen, better known as Praga Kahn, and Oliver Adams. They became famous for creating "the
Mortal Kombat
theme song." They also developed
Mortal Kombat: The Album
. The band also did work on the
Mortal Kombat: Annihilation
soundtrack
.
There are also expanded versions of the song. The Chorus-like part is expanded because of more characters in the series.
Things You Hear In The Song
In the song there are loads of sound effects, Such as:
Scorpion's Spear
Sub-Zero's ice shattering
Shao Kahn saying "You Will Never Win!"
Gallery
The Immortals (band)
External Links