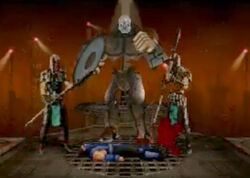 The Keepers are jailors who secure the prisons and passageways of the Netherrealm while guarding and governing the imprisoned souls of the lost and the damned. Mentioned in Mortal Kombat Mythologies: Sub-Zero, these are the many beings that the elder Sub-Zero must pass in order to reach Shinnok's Temple in the Netherrealm. Most of the Keepers are demonic and robotic enemies with various weaponry (circular buzz saw, chain gun, flame throwers), and one rides a beast that spews fire. They are found on the Bridge of Immortality as well as in the Prison of Souls. The instruction manual for the game states that these beings were specifically created by Shinnok himself to battle his former enemies inside the realm.[1]
Concept art for Mortal Kombat: Armageddon depicted hellish beings also referred to as "The Keepers" that would have inhabited the game's Konquest mode.[2] However, they did not make it into the finished version, so it is unknown if these two entities are related.
Gallery
References
Ad blocker interference detected!
Wikia is a free-to-use site that makes money from advertising. We have a modified experience for viewers using ad blockers

Wikia is not accessible if you've made further modifications. Remove the custom ad blocker rule(s) and the page will load as expected.