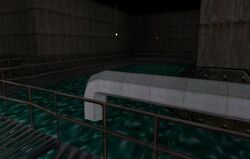 The Sewers
(as its name implies) are the underground sewers beneath an abandoned
warehouse
once used by the
Black Dragon
organization as both a temporary base of operations and an escape route. It is featured as the second level of
Mortal Kombat: Special Forces
.
The Black Dragon used labyrinthine passageways and empty areas in these decadent Sewers to carry drugs and illegal weapons in secret and to hide from the authorities.
After defeating an escaped criminal named No Face, Major Jackson Briggs entered the Sewers in search of Kano and the remaining Black Dragon members. Whilst there, he battled his way through various Black Dragon thugs before encountering Tasia, another escaped convict from the Special Forces maxinum security prison and a Black Dragon gang member. Jax fought and defeated Tasia and made his way out of the Sewers. He then tracked down the Black Dragon to their other hideout in China.
Ad blocker interference detected!
Wikia is a free-to-use site that makes money from advertising. We have a modified experience for viewers using ad blockers

Wikia is not accessible if you've made further modifications. Remove the custom ad blocker rule(s) and the page will load as expected.