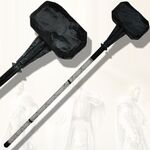 The Troll Hammer is a weapon used by Noob Saibot in Mortal Kombat: Armageddon.
Trivia
A troll is an internet term for those who cause grief and mischief in order to purposefully extract a negative response. This was intentionally given because of the name "Noob-Saibot".

Some of Sub-Zero's moves in the Cryomancer Variation in Mortal Kombat X have him create the Troll Hammer out of ice.
Gallery
Ad blocker interference detected!
Wikia is a free-to-use site that makes money from advertising. We have a modified experience for viewers using ad blockers

Wikia is not accessible if you've made further modifications. Remove the custom ad blocker rule(s) and the page will load as expected.