VOTING HAS ENDED!
THE WINNERS ARE:
PRIZES WILL BE AWARDED OVER THE NEXT WEEK!
(MAKING THEM IS RATHER DIFFICULT AND TIME-CONSUMING — HOPEFULLY I'LL HAVE A MAJORITY OF THEM DONE THIS WEEKEND…BUT REST ASSURED ALL WINNERS WILL BE RECEIVING THEIR PRIZES VERY SHORTLY)

Here are the official kontestants for the Kreate – a – Kombatant Kontest. Please submit a vote in the comments section of this page. Only registered users may vote (whether or not they participated in the Kontest). Each registered user may vote only twice (but may not vote for the same kontestant twice). Voting will run until February 4, 2011 when the servers time is midnight.
Please note the following:
If I made any mistakes while transcribing these Kontestants, please tell me either on my talk page or in a comment on the Kreate – a – Kombatant Kontest.
If I forgot anyone's kontestant (which is very possible, for a variety of glitch-like reasons), please tell me either on my talk page or in a comment on the Kreate – a – Kombatant Kontest.
If there are any major changes or updates that must be made, please tell me either on my talk page or in a comment on the Kreate – a – Kombatant Kontest.
Do not tell me in a comment here, only vote here! I repeat: this blog is for voting only! All other comments will be deleted!
These are the kontestants (and their kreators), listed no particular order:
Ellena Rangetsu
Pain
Age
31
31
Height
5' 5"
5' 8"
Weight
125 lbs.
176 lbs.
Resides
Earthrealm
Earthrealm
Origin
[[Earthrealm
Earthrealm
Species
Human
Vampire
Allies
Pain
Raiden
Ellena Rangetsu
Enemies
Nitara
Nitara
Weapon
Trinity's Cross (Giant Cross)
Lykouleon (Two-Handed Blade)
Esperanza (Holy Knight's Sword)
Fighting Style
The Knight Of Light (Sword Stance)
Self Taught (Hand-to-Hand)
Ninpo
Alignment
Good
Good
—Ellena Rangetsu's Battle Cry
Biography
Ellena Rangetsu and Pain were born as twins. When they were at the age of 4 their village was attacked by Vampires. The mother opened the secret basement door and hid them in there with the children while the father stayed beyond to stall. The vampires broke into the house, the father fought well killing a few of the vampires but was eventually overwhelmed by there numbers and killed. The Vampires then searched the whole house, searching for money and more victims to prey on. After the vampires were satisfied, they set the house on fire, and laughed as they walked out of the house. All the men and woman were killed and were burned (to prevent more ghouls) while they kept the children captive. (The children were kept alive to serve the vampires needs and eventually turned into vampires themselves.) Ellena, Pain, and their mother made it out of the house safely, they gathered foods, clothing, weapons, and other stuff that wasn't taken from bandits nor burned. They soon traveled east, hoping they can arrive in Nazareth. A few weeks later, after a rest stop they continued their journey along the river to stay clear from anymore vampires. While traveling across the river the mother noticed that the same creatures that attacked the village and killed almost all the villagers were following them. The mother took off the remaining equipment from herself and started equipping them onto Ellena & Pain.
''Pain…Ellena, I want you to do what mommy says okay? I want you to cross the river and no matter what you do don't don't look back! Okay?''
Ellena starts crying.
''Pain you are becoming a man now, I want you to protect your sister no matter what, and never…never give up. Promise me….''
''I will mom…I will….''
Ellena's mother starts crying and gives Pain and Ellena one last big hug and kiss before they leave. After that Pain grabs a hold of Ellena and pulls her into the river and starts' swimming across not looking back, Ellena turns her head and sees her mother on her knees waiting for the vampires to come…. After entering Nazareth they looked for a home, a place that would accept them. They ended up joining ''Saint Matthias'' church and with time they became 'Knights of Mathias'. *The Knights of Matthias are a group of knights that maintain peace within the realms and slay undead creatures.*
31, Years Later
After, joining the Saint Matthias Church they became official knights of the knights of order. Ellena became ''The Knight of Light while Pain became ''The Knight of Hope''. They made many friends while in the church of Matthias. Their church however was attacked by a group of vampires. While fighting some of the vampires, they noticed that most of the vampires looked like some of their child-hood friends, back at their old village. Then the current leader of the vampires Nitara stepped in. Ellena knew that if she killed the vampire leader the curse on the villagers would be released. Ellena dashed forward, and tried to fight Nitara all by herself while Pain and the rest of the knights were fending off the vampires. Ellena was winning at first, but the vampire had a secret weapon, their mother. Ellena stopped and looked at her mother, it's been 31 years since that fateful day, and now her mother was standing there….Tears poured down her face, as she looked at her mother.
''Ellena!!! No!! It's a trap!!!''
''My daughter, please…come here…and let me end this pain….''
Ellena dropped her weapon and walked over to her mother and embraced her. Tears were also pouring down her mother's face. Nitara then prepared to deliver the killing blow, she pulled her arm back-
''Nooooo!!!''
And pierced right through Ellena's mother and Pain, who pushed Ellena out of the way and took the blow. Nitara's hand went right through Pain. She got her arm out of Pain and their mother. Pain droped down to the floor just like their mother. Enraged Ellena grabbed her blade, charged at Nitara and sliced Nitara's left eye. The rest of the knights managed to kill most of the vampires, the rest of them ran off and so did Nitara.
''…I am so sorry…Pain…Ellena…''
Their mother said quietly as she bled on the floor with Pain.
''….I never wanted this to happen to …you…I wanted you guys …to be happy …always…. Pain after all these years you kept your promise, to me…. I cannot let you die here…Your sister needs you….. ''
''…….''
Ellena started crying again, she knelt down and hold her brother close to herself.
''Take my blood, here, walk this world again…..Please.''
Pain looked at his mother and tried saying something but no words came out. Their mother crawled a little towards Ellena and Pain. She took Pain's arm and gently bit him. Pain's body started moving around uncontrollably accepting the vampire gift.
''The blood that…flows…through my veins….is Nitara's….if you kill her…Pain will turn back into a human…but you have to kill her…. I love you two so much…even though it ended like this I am happy….goodbye….''
Their Mother has just died. The remainder of the knights come over and points their weapons at Pain's throat. One of them starts speaking.
''Ellena step aside, he is now a child of the night he must die for the good of the church.''
''No there must be some-other way please, he is my brother!''
''Sorry Ellena, but now he is not, he is a monster!''
Pain's eye's glow red as the color of blood, and sliced through the knights with ease. He then licked their blood off the ground growing stronger by the minute. He then sees Ellena in the corner of his eye. He dashes forward to Ellena and pointed his blade covered in the blood of the knights at Ellena's neck.
''….Go-ahead.''
Pain looked over at the knights then back at Ellena, his eyes, turned back to the normal color.
''Ellena?''
She smiled lightly with tears still pouring down her face and hugged him.
''What have I done…I was about to…kill you….Ellena hurry kill me before I will try again!''
''No, I cannot brother, you are my only family left…I will not.''
''Ellena….''
''We will cure you brother...We will kill Nitara."
Special Moves
Ellena Rangetsu:
Sacred Cross: Divine Strike (Charge) (Air) — Ellena will jump in the air bringing out her giant cross, creating a light blue aura around the cross, the cross then starts glowing bright blue and then she will do a downward strike to the ground creating a wave on impact, if opponent is hit by the cross's wave they are sent flying back however, if hit by the cross itself the opponent will be sent up in the air for 3 seconds.
Sacred Cross: Divine Cross (Charge) (Air) — Ellena can either perform this in the air or the ground. Ellena will hold out her hand creating a small blue cross, she will then pull her arm back, the longer she holds the more powerful it becomes and the more range. She once done will send a powerful blast of pure holy energy at opponent.
Light Fang (Charge) — Ellena will extend her sword out, creating a light blue aura around the blade, once done charging she will swing her blade creating a small (depending on how long to charge) white wave that travels across the stage.
Wings of Light (Air) (Charge) — Ellena will touch the ground, as light blue aura will start to form around her. Once done charging the light blue aura around her back will create light blue wings. These wings increase Ellena's speed and the time to perform special moves.
Pain:
True Blood (Counter) — Pain when he is hit, he will turn into a swarm of bats that will surround the opponent biting her/him while they are surrounding, and then some of the bats will form into Pain and he bites down on the opponent's neck.
Sting (Ground Only) — Pain will dash towards while holding his sword out in front of him and peforms a powerful sword thrust piercing through the foe.
Dark Knight (Ground Only) — Pain will dash towards while holding his sword out in front of him and peforms a quick lash.
Rise Of The Vampire Lord (Air) (Ground) (Special) — Pain will transform into a swarm of bats once more in mid-air, and instanly dash forward and will launch the opponent in the air, the bats will spilt into two groups, the first group will fly upward and start attacking the foe while the second group starts forming Pain who brings out his sword , the bats that are attacking the foe will turn into mist and the opponent falls, and Pain will thurst upward as the opponent lands on his blade.
X-Ray Move
Ellena Rangetsu:
Divine Judgment — Ellena will bless her sword with holy energy making it into a light blue cross, she will then hold the sword up like it's a spear, and hurls it at the opponent's chest piercing through (showing the sword/cross going through the chest cracking some of the opponent's rips) and then she will dash forward grab the opponent's shoulder with her right hand and then grab the handle of the cross blade with her left hand and twists the handle causing the blade to explode to little shards within the opponent, (when she twists the blade the blade explodes into little shards spread out cutting most of the organ and piercing through some bones)
Pain:
I See Through You — Pain will dash forward and perform a powerful uppercut to the opponent's jaw (showing the jaw breaking slowly) launching the opponent in the air, Pain will turn into a swarm of bats and fly upward toward the opponent, the bats will then form into Pain, Pain's coat rips apart as wings sprung out, he then pulls his arm back and pierces through the opponent's chest (shows his hand going through the skin and his hand piercing thorugh the rib-cage breaking some of it.)
Tag-Team:
Unholy Punishment — Ellena will charge head on, having her left hand curled up in a fist with blue aura around it, she punches the opponent's right side of the face (it shows some of the opponent's check bone crack a little), she then brings her hand back and punches the opponent's left side of the face, and brings her hand up creating a small cross and pierces the cross on the top of the opponents head (it shows the cross hits the skull cracking it) and then pain dashes in and does a quick slash right through the opponent and spins around and pierces through the opponent with his claw (it shows his claw ripping apart most of the skin and etc….) and then Pain gets his arm out and sends the opponent flying with a kick .(It shows some of the opponent's spin breaking as he kicked the opponent.)
Fatality
Ellena Rangetsu:
Divine Tempest — Ellena will unsheathed her sword, creating a light blue aura around her blade, once done she will charge at the opponent and cut the opponent a few times, then send them in the air with a kick, she will jump in the air and then send them back to the ground by a kick, she will then raise up her sword, and perform a downward sword thrust at the opponent, piecing through the chest, creating a small wave on impact, the blade will begin to freeze up forming at giant cross freezing over the opponent.
Hammer of Justice — Ellena will unsheathed her sword, creating a light blue aura around her blade, once done she will charge at the opponent and do a horizontal slash, and then she will bring back her sword in the air and impale the opponent's chest, she will the grab part of the opponent's collar (or piece of clothing), raises her left arm up in the high in the sky and then come striking down on the blade handle making the blade exploding within killing the opponent instantly.
Pain:
The Edge Of Darkness — EThe back of Pain's body will slowly start turning into bats, Pain eyes will then become crimson red, as his back slowly starts forming into bats, he will walk up slowly to the opponent, he will then stand infront of the opponent, the opponent is frightend of Pain and will not move, Pain only smiles and slowly starts opening his mouth showing his sharp fangs, the opponent takes a step back but Pain walks forward keeping his mouth wide open, he will then at high-speed bite down on the opponent's neck drinking the foe's blood and as the bats surround them.
Tag-Team:
Divine Punishment — Ellena will dash forward and perform a couple of sword slices, then Ellena will remove her giant cross from her back and smack the opponent up in the air, Pain will jump up and bring out his wings, and fly up in the air while carrying his blade. Ellena will then concentrate on her giant cross creating light blue aura around it, and Pain will cut the opponent in million of pieces. The opponent's body will remain intact as he/she falls, Ellena then will release a blast from the cross upward hitting the opponent making the opponent's body parts fly everywhere.
Description
Besides, being 5 ft tall & 5 inches, she wears a opened coat with light blue trimmings and the coat itself is white, she has long yellow hair, she sometimes wears her templar helmet, she most of the time wears a white skirt with blue trims and white long blue pants. She also carries a giant cross on her back and a sword on her waist belt. Her knight armor she only wears during dances or meetings and sometimes battle. She has light sliver chest plate with a bright blue crystal in the middle of the chest plate, she wears sliver grieves with small spikes coming out of the knee-caps (pants), she wears sliver gaunlets, a light blue cape, a light sliver helement that completly hides her face, it has 7 holes in the front (so she can see) at the back of the helement, it has sliver like wings coming out, and her hair reaaches all the way to her back.
Biography
Oak was a renegade member of the Lin Kuei, who was exiled, due to being against the Elder Sub-Zero and his dark ways. Unlike the other members, he did not know how to freeze things. But, instead, he had an ability to control the Earth, and it's vegetation. He lived off the land, as the old shaman of his tribe had taught him. He was the secret defender of Earthrealm, when Outworld forces attacked from the Living Forest.
He lived a peaceful life, and had a wife, and a lone son, however, on another of Shao Kahn's conquests, his extermination forces managed to wound him, and kill his wife and child. This stirred up an uncontrollable rage in Oak, as he wanted the head of the man who murdered his family. He joined his old friend in a fight to defeat the loathsome emperor.
Special Moves
Poison Oak — A long vine quickly emerges out of the ground, and coils around the foe's waist, and then roughly slammed them down. (Can be used to counter a mid-air attack, and can bounce the foe up for another hit.)
Rockslide — Oak extends his leg out, and glides along the ground's surface, to hit the enemy low, and trip them up.
Rock Hard — He forces a small wall of earth to come up and block an attack, and potentially stop a combo, which breaks upon impact.
Knife Throw — Throws his knife towards his opponent.
X-Ray Move
Vulture's Flight — Oak summons a vine to wrap around the opponent's leg, which it then tosses the opponent into the air. Oak jumps up, and catches them, with their back to hsi shoulder, and lands with tremendous force, breaking their spine.
Fatality
Nature's Fury — Oak grabs his opponent's neck with his right hand, and lifts them up with ease. With his left hand, he summons a rock spire from the ground, and then violently chokeslams his opponent onto the spire, impaling them on it.
Flailing Foe — Oak encases his fist in rock, and uppercuts hsi opponent so hard, their head, with spine attached flies off, as he catches the bottom of the spine with his free hand. The opponent's body moves around, acting as if it were alive, as Oak then uses the spine as if it were a flail, and hammers the body off screen and poses with the spine in the air and lets out a battle-cry.
Hara-Kiri
Oak summons a spire from the ground, as he wobbily moves over to it, before falling onto it, as the sharp point easily goes through his chest cavity.
Description
I picture Oak as a brown palette swap of Sub-Zero, only with more of a natural looking armor, maybe with animal bone, as well. He would have long brown hair, and a long brown beard, as well.
Biography
Maxim Tolomov was a former KGB Agent during the Soviet Union, who had become a ruthless assassin for hire, until he was recruited into the Red Dragon Clan for his ruthlessness. He had a knack as being an extremely accurate shot, claiming he never misses his target. Claiming the lives of 7 Black Dragon Members in broad daylight, he had aroused the authorites, as Kurtis Stryker was the major one who wanted to put him behind bars.
Before the extermination squads of Shao Kahn were sent, Tolomov was about to assassinate a member of the rival clan, however, it was an ambush by the NYPD. All but Stryker was slain, however, Tolomov was wounded severly, as Stryker was able to put him behind bars three years the fateful events.
On the event of the attack, that massacred Stryker's city, an officer freed Tolomov to aid the police for his freedom, however it was his last mistake. Tolomov killed him, and numerous extermination squad members, and fled the chaos, vowing to return, and kill Stryker, and finish the job he had taken for his clan.
Special Moves
Quick Draw (High) — Very quickly, Tolomov pulls out hsi twin pistols and fired two rapid shots.
Quick Draw (Low) — Tolomov crouched and fired two quick pistol shots to the kneecaps.
Vertical Suplex — Tolomov does a kick, and extends his shoeknife, stabbing the foe in the gut. He then grabs them by their head, and does a vertical suplex to them.
Thermal Detonator — Tolomov charges a red ball of energy, and lobs it at his opponent, like a grenade.
Rushin' Russian — Tolomov runs forward, hops up on the opponent's knee, and then does a slashing kick to the opponent's face with his shoeknife.
X-Ray Move
Systema Disabler — As his opponent throws a punch, Tolomov grabs his opponent's arm, and does a hiptoss, throwing them over his body. He then uses his elbow, and breaks the opponent's arm before letting go.
Fatality
Deadeye — Tolomov pulls out both suppressed pistols, and systematically shoots both the opponent's shins, sending the foe to their knees. Then, he fires two more simultaneous shots, both going through the foe's eyeballs, destroying the brain, as they fall over, he crosses his arms, and poses in victory.
Curb Stomp — Tolomov pulls out his Makrata, and then lops off his opponent's left shin, and pushes his opponent down. He walked over and grabbed their leg, and as the opponent pleaded with mercy, he then raised the leg up, and with all his might, sent it crashing down, crushing the enemy's skull. Tolomov then raised his own arm up in victory.
Hara-Kiri
Tolomov lies down, and charged up a Thermal Detonator attack. The opponent sees this after checking on him and runs off, before the blast causes him to explode.
Description
I picture Tolomov as the James Bond Villian-like character of the MK series. He is sort of a spy/assassin for hire, who is armed to the teeth. He would wear a brown open trenchcoat, with a black tank top, and maybe military pants, with a red beret, symbolizing him as a Russian Spetsnaz.
Biography
Razalas in an ancient Oni, who specialized in murderous affairs, who hardly seems to age. His secret to eternal life, is sacrificing people to a dark lord, in exchange for an everlasting lifespan. He was often hired by Quan Chi to give him a human look, so he could become a bounty hunter in Outworld or Earthrealm, in exchange for the new appearance, as well as foes to test his strength against. Quan Chi hired him to wipe out the Shirai Ryu, after the death of Hanzo Hasashi. After the brutal slaughtering of the entire clan, Quan Chi had summoned the ever lasting oni to wipe out some traitorous scum. For Razalas, this was personal, as Sareena was a long time rival of his within the Netherrealm, as was Ashrah, however, both was for various different reasons. Ashrah has often attempted to kill Razalas to purify herself, however, he always had the upperhand on her. Meanwhile, Sareena was often a rival of her's, after he slain Kia and Jataaka for their failure to Quan Chi.
Quan Chi promises him a human form if he can bring him proof of slaying Sareena, however, the vengeful specter wants blood for his clan.
Special Moves
Homerun Swing — Razalas does a tremendous uppercut and then swings his kanabo at his opponent, knocking them away.
Kanabo Smash — Razalas jumps up and slams his Kanabo down, causing tremor damage, popping the opponent up for additional attack
Flamethrower — Razalas opens his mouth, and releases a torrent of flame from his mouth
Skull Napalm — Razalas throws a flaming skull at his opponent, like a molotov cocktail.
Sweet Chin Music — Razalas extends his leg out ant then treads towards his opponent with a huge high kick, that has a trail of fire behind him (much like Johnny Cage's Shadow Kick)
X-Ray Move
Crushing Blow — Razalas will grapple the enemy and smash his knee into the opponent's face, causing a fracture. He would then grab both his opponent's legs and lift him/her up and slam them onto the ground, fracturing their spine.
Fatality
Juicer — Razalas pulls out a sacrificial bone knife and slashes both of his opponent's thighs after the foe tries to attack him. The foe drops to their knees and cries out in pain. He then grabs his Kanabo and does a vicious smash to the opponent's head, crushing it into dust and blood.
Blood Eagle — Razalas spins his opponent around, and forces them on their knees before driving his dagger deep into their back, and ripping downwards. He then opens the back of the ribcage, prying it apart, and tears out both of his opponent's lungs, and raises them to the sky as the enemy falls over dead.
Hara-Kiri
Razalas drops to one knee, and takes out his Kanabo and slams it against his head once, as he jerks away, but is still alive, despite blood coming from his eyes. He then does one more smash, as his head caves in, as his body falls over dead.
—Damon says this quote to every Kombatant who declares war at Vaeternus.
Biography
The vampire named Damon enters the netherealm as he walks from the portal, Ashrah saw him as she was walking by the lava, she run to him and tried to attack him but he countered her attack and grabbed her leg and swing her in circles and thrown her to the zombies. Next opponent came by was scorpion, he threw his spear at Damon but Damon grabbed it as it was aiming for him, then Damon threw it at Scorpion as a reverse. Scorpion dodged it, then they fight each other as a war, Damon teleported in different directions and Scorpion was thinking he's very unknown for a Kombatant to do that, as they were fighting with their powers and weapons, meanwhile Scorpion gave up, vanished and let Damon go. Then Quan chi approached Damon as he was thinking that Damon is an unknown kombatant, because he had never been seen before. After that Quan chi decided to run against Damon but Damon grabbed Quan chi by his neck trying to examine him, seeing if he's a sorcerer. Nitara came into the netherealm then she saw Damon, but she decided to watch them as she was sitting on the wall. Damon and Quan chi started fighting, Damon punched Quan chi in the face then Quan chi fell on the ground flying. Then Quan chi tried to do his green flaming skull at Damon, but Damon dodged it by doing teleporting move. After that Quan chi got his two swords out and tried to slice Damon with them and Damon kept dodging the attacks without teleporting, then Damon decided to get his sword out the deadly fang sword, Damon attacked Quan chi with his sword as Quan chi has got two swords out, one sword fell out of Quan chi's left hand as Damon sliced the sword. Damon's right hand went on fire and threw the red fireball at Quan chi but Quan chi jumped out of the way and run as he opened the portal and disapeared.
After Quan chi disapeared, Nitara fly over to Damon and as she landed she bowed down to him in respect, but Damon didn't expect that. He thought he would never meet any vampires other than him, together they become allies as they are both vampire. Nitara decided to take Damon to Vaeternus a realm of vampire nation. Nitara and the vampire followers made Damon become supreme emperor of Vaeternus and Moroi empire, he was the chosen one because he is strong. Damon made Nitara become his general queen as they are close allies. As the 10th tournanment began, Damon and Nitara decided to participate, together they fight as one.
Konquest Story
In Vaeternus after Damon became emporer and taken Kahil Grigesh's place, Nitara decided to go traveling around different realms to show Damon what other realms are different from others. Together they went to earthrealm as a visit, to show him it can be peaceful in many bright realms, they walked across the river and looked around, then Raiden appeared by lightning as he saw the two vampire allies. He had stopped them the minute he saw them thinking they are Shao Kahn's spies because they have wings, but Nitara said to Raiden that both her and Damon are not Shao Kahn's spies, they are enemies of him. Raiden forgive Nitara and Damon and let them go, Nitara and Damon walked to the portal to go other realms. After Damon and Nitara went through the portal, they decided to visit Edenia to see how different it is compared to Earthrealm, they looked around the places as they got out from the portal. Kitana saw them thinking they are outworlders but Nitara say to her that her and Damon are from Vaeternus, after that there was an ambush in Edenia and there was an army, it was Shao Kahn's malitia, Shao Kahn sent them to Edenia because he can't enter any realms, the whole realm of Edenia was surrounded by Shao Khan's malitia for the second time in the 10th tournament. A big war was going on and the malitia was charging all the way to Edenian palace trying to take over, Nitara and Damon decided to fight on Kitana and Sindel's side. Nitara summoned Cyrax to fight on they're side and Liu Kang came out of the portal and saw what was going on, he realised that it's a second war in Edenia by Shao Kahn's malitia. As Nitara, Damon, Cyrax, Liu Kang, Kitana and Sindel fight against Shao Kahn's malitia, Jade looked out of the tent as she was shocked about war in Edenia again this happened second time. Jade called out the Edenian freedom fighters and run towards Shao Kahn's army, together Jade, Kitana, Liu kang, Sindel, Cyrax, Nitara, Damon and the Edenian freedom fighters, they all fight as one team and fighting they're war against the malitia, they had realised Shao Kahn wants Edenia again to merge with outworld. They all attacked the Shao Kahn malitia, Nitara and Damon bitten most of the soldiers, they turned vampire on they're side and passed it on to other soldiers, a few soldiers got their head chopped off by Kitana's fan blades, Sindel used her scream to get the army deaf, Jade killed alot of them by her staff, Liu Kang used his animality on the army and then and whiped them out, Cyrax killed them by throwing his net and killing them with his sword, the Edenian freedom fighters help the villagers to go somewhere safety where no one will get hurt. The whole army got defeated and killed, Edenia is safe now.
After the army got defeated, Cyrax disapeared but no one knows where he'd gone, Kitana and Sindel were blessed that fighters from other realms fight at they're side. Kitana, Sindel, Liu Kang and Jade thanked Nitara and Damon for fighting on they're side against the Shao Kahn malitia. Nitara and Damon and a few vampire followers who just been bitten had opened the portal and returned to Vaeternus.
As Nitara and Damon returned to Vaeternus and Moroi empire, they decided to stay in Vaeternus for a whole day, because they worked hard fighting for Edenia.
Special Moves
Blood Spit — He spits out blood ball at the opponent 3 times.
Red Fireball — He throws the red fireball and it burns the whole opponent, but only takes 5% of the heealth.
Teleport Attack — He runs to the opponent and first attack is he punches opponent in the face, second attack is he kicks the opponents knee cap, third he uppercut kicks him to the sky.
Daggers — He throws the daggers 5 times at the enemies head.
Flying — He flies to dodge enemies attack when trying to avoid special moves.
Tag-Team Move
Damon throws the opponent on the ground, then Nitara runs through hits them and then sucks the opponents neck and sucks their blood to get more energy.
Block
When the opponent attacks Damon and uses special moves, Damon's wings pop out and blocks the opponents attack.
X-Ray Move
He bares his fangs out and bites the opponents neck, punches opponent in the stomach, he uppercut punches the opponent in the chin and goes up in the air and hits the ceiling.
Fatality
He jumps on the opponent bites the living hell out of him and blood starts dripping everywhere, kicks him and then jumps off him and does his victory.
Friendship
Damon slits his wrist and pours the blood into a glass and offers it to the opponent.
Animality
Damon's whole body figure falls apart into bats and goes inside the opponents mouth and the opponents body explodes.
Description
Damon has red and black samurai armor, red and black wings and accessories, his red eyes glow when he's fighting, he has top fangs and bottom fangs on his teeth, he is agressive while he's fighting. His mouth is always open because of the bottom and top fangs.
Biography
The only thing that I remember, is my escape with another prisioner called Kano in the interior of a mountain before the scientists turn us in a bizarre unreal creatures called Hybrid Dragons. In some point of the escape, we separated and I was confused in the way out because my experimentation is advanced and had my mind in a total struggle, if I lose my mind, i could be another mindless violent creature. In those moments, I don't realize that I came in a big room where all was being destroyed: the roof, the creatures, the scientists, I mean all and before I realized, I was hit by something heavy but before to lose conscience, I looked to a big silouette close to me.
When I woke up, I was afar from that place, my head hurts a lot and I was bandaged in the head. I don't know where I was but it looks like a old cavern, until a big figure close to me talked to me: a big red dragon called Caro, he told me that he found me in that mountain with a big wound in my head and he nurse me back to health. The only thing that I can say to him was Thank You, he told me that my only way to repay him is tell him my name. Unfortunaly, I don't remember anything but I told everything i knew until now; his face remained neutral but he listened everything and He said something to me that I was not waiting for: He is gonna train me.
I was in debt with Caro, not only he save my life, but he taught me a mystical Martial Art that his former pupil declined to learn, and me with his DNA inside of me, I can learn some techniques from him and teach me a way to master the Hybrid Dragon form inside of me. That cavern was not fitted to do training, so we use a series of old obelisks that have a magical space inside where the time is faster than outside. Normally I can't go inside but Caro gave me a Magic Amulet that let me enter that space for a one time only and he used an human-shape avatar to train with me in that space. Along the training, he told me everything about himself (about his pupil treating it badly, I got furious with Daegon for that), the world, and the current situation.
My training was 3 month long but outside was 3 hours, but in the very moment that we returned to the outside world, it felt very heavy; like the end of the world, he told me that Daegon's brother called Taven must defeat the elemental Blaze and the Armageddon will not happen but he felt that something was wrong, so I must hurry to find him in Edenia and help Taven or find the God of Thunder Raiden for advice. Before I left, I said good bye to my mentor and friend Caro by all the things that he did for me. I used the Dragon Portal that Caro taught me but the energies in the space was unbalancing the Portal and I teleport to Edenia in some ruins away from Taven or Raiden and there were signals of a battle and that place I spotted a weapon who called me: a drakesword and I take it with me. From there, I see the pyramid and in the top, Taven defeated Blaze, he becomes a god and I think that he stopped the end of the world but something was wrong: all the fighters were more powerful than before. And Taven used his time stop to avoid the power of Armageddon to destroy everything but that was the only thing that he can do. I rushed to that place to find Raiden, when I get there, almost all fighters were defeated, only two remained: Shao Kahn against Raiden but the fight was in favor of Shao Kahn, he was trying to kill the God fo Thunder and I am running to stop that. And that moment, Raiden saw me and one of his lightning hit me, I heard his words: "Find me", I briefly saw a early image of Raiden and I fell unconscious after seen Shao Kahn murdering Raiden.
When I wake up again, the heavy sensation of the end of the world was gone. I was away from Edenia, I was in a island, that place looks so familiar, I saw a monk there and he told me the place and time. Shocked is little to express that moment, I was in Shang Tsung's Island where the legendary tournament Mortal Kombat where Liu Kang becomes the Champion of Mortal Kombat years ago. I know that Raiden will be there, I need to find him and asking about that strange message and now that i'm in the past, i must find something about my past.
Special Moves
Dragon Fireball — Drakon joins his hands towards his right hip, in them mystical fire of dragon is gathered, after that, he moves his hands towards the front where the fire takes the head of a dragon to the beginning of the attack directing to the opponent in straight line.
Cross Punch — Drakon joins his arms in a X shape, and he launch himself against his opponent doing two attacks with his hands with a spinning kick in the end.
Dragon Teleport — Drakon forms a portal behind of him, he steps in it and he re-appears behind the opponent.
X-Ray Move
Teleport Crush — Drakon close in to the opponent, uppercut him/her very strong breaking the jaw. After that, he teleports himself above the opponent putting a hand on the neck and the other on a thigh and He gave a knee to the opponent's spine tearing it. Finally, Drakon teleports the opponent to the ground face up and Drakon lands in the opponent, stepping into the opponent's chest breaking his/her bones in it.
Fatality
Drake Slash — Drakon turns to a controlled Red Hybrid Dragon (still human but his skin turns to dragon scale and his hands becomes two dragon claws, grows a pair of wings and his eyes brighter like Caro). His claws's nails grows 4 or 5 times his normal size, with his right claw he do a vertical slash to the body of the opponent and his left claw he do a horizontal slash and finally, he moves his wings forming a strong wind to the opponent and the opponent's body becomes a lot of little pieces.
Draco Explosion — Drakon close in slowly to the opponent and stucks his two hands inside the opponent for a while, then the chest of the opponent glows, Drakon steps back. The opponent starts to suffer and the chest starts to grow twice its size and 5 seconds later, the opponent explodes and the fire takes a dragon-shape.
Hara-Kiri
Self-Molation — Drakon stuck his hands inside his chest and his chest starts to glow, it expands to all his body and finally, he starts to burn himself.
Friendship
Dragon Dance — Drakon with random MK characters carry a dragon to do a Dragon Dance
Description
Drakon was a Red Dragon test subject to be turned in Hybrid Dragon, so he is depicted with black armwrists in his two arms; black pants with orange/red accents, some metallic decorations in it, black belt and black boots and Caro give him a orange/red vest with dragon adorned in it.
Kuro
Age
Unknown
Height
5' 9"
Weight
180 lbs.
Resides
Outworld
Origin
Darkrealm
Species
Darkrealmer
Allies
None
Enemies
Shao Kahn
Weapon
Phoenix (one-handed, red and black sword)
Fighting Style
Pi Gua
Alignment
Neutral
Biography
As a child Kuro saw his parents killed by Shao Kahn's invasion of Darkrealm. His realm was taken over by Outworld and bond to it by a Portal Sphere. Kuro was left all alone. With time Kuro felt his hate for the emperor growing stronger and stronger, he trained to gain enough strenght so that one day he would be to challange Shao Kahn. His powers over darkness increased and he became a formidable fighter. Hearing that Shao Kahn would be present in the next Mortal Kombat he decided to join the tournament. Kuro approached the sorcerer Shang Tsung who was gathering fighters. The sorcerer was reluctant, so he asked Kuro to fight against another kontestant. The fight was brief and Kuro took his opponent life by snapping his neck. Shang Tsung was impressed and decided to let Kuro join the tournament thinking he would be a great asset for Outworld, ignorant of Kuro's true intentions.
Darkrealm: The Story of Kuro
"Sometimes I wonder, was it just a nightmare, or was that horrible day...reality."
"My memories date back to centuries ago; my name is Kuro and I am the last survivor of one the many realms conquered by the Emperor of Outworld, the Darkrealm.
Shao Kahn knew our realm had been weakened by centuries of battle with Seido . He stroke when our guard was down and destroyed everything that stood in his path. My father, a member of the imperial guard, knew what was happening, so he ordered me to hide in a hideout we made fearing that the war would one day make is way to our home.
I hid for days until my curiosity led me out. The stench of blood in the air was unbearable. As I got home I saw the corpses of my parents on the ground, my father's arm had been ripped from his body and my mother's face showed that she died in excruciating pain. That image would hunt me forever. My heart drowned in the darkness of my realm.
When I left the house I saw soldiers entering a portal in the distance, I ran towards them seeking to get my revenge and I jumped just in time before the portal closed.
To my disappointment I ended up far way from those I pursued. I was teleported to a forest were the trees spoke and assassins lurked from the shadows. As a child I would stand no chance against the army of Shao Kahn, but the darkness in which my heart had drowned awoke my true powers, the control over shadows and darkness.
Years passed as I walked through Outworld, increasing my abilities and feeling my hatred for the emperor growing even stronger.
As I returned to the Living Forest , 21 years after I first arrived there, I was confronted by a ninja covered in smoke. The ninja was strong and claimed he would challenge any warrior that would pass in those lands. I fought him in an amazing battle; my training had paid off and I was able to fight him as equal.
In trouble the ninja created a thick fog that made visibility drop to zero.
From out of nowhere I was attacked repeatedly and knocked down .
Smoke won.
After the battle the ninja complemented my fighting skills.
Smoke: You are a strong warrior. May we fight each other again and the outcome may not be the same.
Smoke left as quickly as he had appeared.
Finally I understood that even though my training had indeed improved my abilities I lacked the fighting experience. I roamed the world seeking for strong fighters to engage in Kombat. Among them was a great warrior by the name of Shujinko, who also roamed the realms in a quest. Shujinko told me of his former master Bo' Rai Cho and how he had taught him many techniques.
I searched for the master and found him years later. After hearing my reasons for wanting to learn from him, he decided to train me. Long years passed and I grew stronger. But as my powers increased so did my will to kill the emperor, avenge my family and restore my realm. Seeing that my hatred was growing, Bo' Rai Cho warned me of the dangers of holding such grudge. I cared not, for all I thought about, day and night, since I was a child was to kill Shao Kahn.
Finally the last stage of my training had arrived; I was to defeat my master in Kombat. Bo' Rai Cho fought well but he was no match for my abilities.
Pleased by the success of the training I bid farewell to my master and returned to my quest.
It was at that time I heard about a tournament that was being held by the sorcerer Shang Tsung, a servant of Shao Kahn. It seemed that the emperor would be present in the Mortal Kombat tournament. I took no time to decide. I would enter the tournament and finally confront my nemesis.
I found Shang Tsung in a village recruiting fighters for the tournament. At first he was reluctant about letting me in, so he decided that if I was able to defeat one of the kombatants chosen by him I could take his place in Mortal Kombat.
The kombatant's name was Zeit, he had some type of time controlling ability he used to make himself faster than the eye could see.
The fight was hard but I was victorious.
Shang Tsung: FINISH HIM!
At the sorcerer's command I snapped Zeit's neck, killing him. My soul was forever lost.
Although I resided in the realm of darkness I was born as a new type of darkrealmer. I was not completly ruthless, shared no taste for killing, no darkness in my heart. But time changed me, twisted me, and turned me into a soulless being.
I was taken to a strange ship by the sorcerer. It was filled with the fighters that would compete in the tournament. Never would I have thought I would have so much competition.
Among them there was one combatant that caught my attention, his name was Liu Kang. Although he had a peaceful personality he had an enourmous fighting ability. "
TO BE CONTINUED
Special Moves
Dark Fire — Kuro launches a Dark Fire Ball at his opponent.
Shadow Life — Kuro runs towards the opponent and right before they connect Kuro disapears in a dark cloud of smoke and reapears behind him hiting him with a spining kick to the head
Brain Damage — Kuro kicks his opponent in the stomach, making his opponent bend for a moment, and uses that opportunity to kick his opponent violently in the head sending him to the other side of the screen
Death from Above — Kuro jumps and launches a Explosive Dark Fire Ball using his right hand, that can damage the enemy by either hiting him or by exploding by hiting the ground near him.
X-Ray Move
Killer Strike — Kuro grabs his opponent's arm, kicks his opponent in the chest pulling his arm and breaking it, throws his opponent up in the air and hits it one more time with a flying kick that snaps his spine.
Fatality
Darkrealm — Kuro's shadow gain physical form and walks towards his opponent holding his arms and Kuro gets a hold of his legs. They both pull back ripping the opponents legs and arms from the body. Then the shadow and Kuro runs towards each other and jump in the air merging again and landing on the opponents head.
Shadow Killer — Kuro starts sinking in his shadow, reapers rising from the shadow of his opponent, holds his opponent's arms from behind, places a foot on his back and pulls the arms back ripping them from the body. The opponent turns towards Kuro, and Kuro drops the arms and does a high kick to his opponent's head decapitating him.
Animality
Kuro morphs into a dark phoenix and flies by the opponent burning him to nothing but ashes.
Friendship
Kuro takes off his mask, bows to his opponent showing him respect and then leaves, leaving the opponent unarmed.
Character Relationships
Kuro wishes to kill Shao Kahn for the invasion of Darkrealm
Kuro fought against Liu Kang in the tournament but spared his life
Kuro was trained by Bo Rai Cho
Kuro encountered Shujinko during his training
Kuro fought Smoke in the living forest and was defeated by the Lin Kuei warrior
Kuro killed Zeit at the command of Shang Tsung so he could enter the Mortal Kombat tournament
Quotes
Stages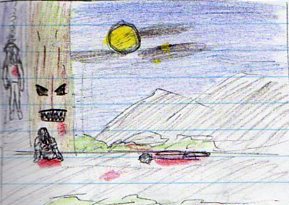 Living Forest Entrance
The entrance to the living forest shows a tree with eyes and long sharp teeth ready to kill anyone who goes anywhere near it. Corpses are lying on the floor, the moon shines in the sky and the smell of blood is in the air. Stage fatality: If the winner upercuts the loser, he will send him flying towards the mouth of the tree, the tree will chew is legs of and will let the rest of the body fall to the ground where crows eat the remains.
Darkrealm
A realm where the sky is black and the sun is red. The flames of war burn in the houses near by with corpses on the ground and ashes making the air unbearable to breath.
Stage Fatality — If the winner pushes the loser towards the burning houses the loser will burn untill there's nothing left besides a pile of bones.
Biography
"For many years, I assumed I was a member of the nomadic race known as the Tarkata. It made sense, as I was born amongst them. But as I grew, it was obvious to me things were not as I thought. For starters, my teeth never grew as large as those around me. Then, when I withdrew my blades for the first time....well, everyone was shocked at their odd shape. In fact, it was because of their shape that I was unable to retract them. From that moment on, I became an outcast. I began to suspect that, maybe, I wasn't a Tarkatan after all. Years later, I left my camp and began roaming for my true ancestory. It was there I met a strange woman named Mileena. She revealed to me her own "secrets" and that she was an experimental clone. It explains the teeth, but not the blades. I swore my alligence to Mileena, but my motives remain.....
Special Moves
Blade Spin — Sythzor spins around like a tornado, hitting his opponent with his blades.
Scissor Span — Sythzor shuts his scissor blades, causing a spark to fly out and hit the opponent.
Sycthe Stab — Sythzor lunges forward at his opponent, sycthe blade first.
X-Ray Move
Tasty Elbow — Sythzor rams his scythe blade into the stomach of his opponent. He then grabs their arm and bits deep into the elbow, shattering it.
Fatality
Chip Chop — Sythzor uses his scissor blades to cut off the left arm of his opponent, which he eats. He then chops off their right leg, then decapitates them with his scythe blade. He then places the chopped-off leg in their neck, so it sticks out where their head would be.
Biography
Lai originally had a dark past and lived a life of crime. He was part of an evil organization (presumably the Black Dragon). But like Kabal, he realizes that the clan didn't benefit him so he decided to relieve himself of the evil that burdens him so. He went to Nightwolf for spirit cleansing and became a force of good.
Lai then became a member of the White Lotus society along Liu Kang and Kung Lao when he heard about his ancenstors who were members of this ancient organization. He was thought to be killed when the tarkattan horde attacked the Wu Shi Academy in between the events of Mortal Kombat 1 and 2. But he somehow survived and managed to hide from his fellow monks such as Liu Kang and Kung Lao, wanting them to believe he's dead. And when Raiden sends the message to his past self, Lai realizes the Earth must be in immense danger and decides to come out of hiding to reuite with his former allies. Lai swears revenge on Baraka and vows to kill him now that he's out of hiding.
Special Moves
Shaolin Blast — Lai shoots a stream of fire at his opponent simaller to that of Liu Kang's Dragon Fire Move
Whirlwind Kick — Lai repeatedly kicks his opponent in the air.
Shaolin Spin — Lai spins and throws his opponent in the air, giving him a free hit.
Shaolin Soccer Kick — Lai kicks his opponent in the face while performing a back flip.
Whirlwind Fireballs — Lai performs his Whirlwind kick move but this time, fireballs come out whenever he kicks.
X-Ray Move
Karate Chop — Lai kicks his opponent in the chest, which causes his/her rib cage to break. The opponent lowers his/her torso and Lai strikes in the back of the neck, causing it to crush.
Fatality
Shaolin Chop — Lai punches his opponent in the abdomen, the opponent falls to his/her knees and lowers the head. Lai strikes his opponent in the back of the neck, causing the head to fall off.
Dreadnaught
Age
66
Height
6' 4"
Weight
214 lbs.
Resides
Outworld
Origin
Outworld
Species
Zombie/Undead
Allies
None
Enemies
Everyone
Weapon
Shadow's Legacy (Two-Handed Blade)
Fighting Style
Self-Taught
Alignment
Evil (formerly Neutral)
Biography
During the time of making creatures, Shang-Tsung started using souls, flesh, and blood from the flesh pits to creature new creatures, to aid in Mortal Kombat. One of Shang-Tsung's successful creations was Mileena, the half Tarkatan and half edeian, Kitana's clone. Meat was also created in the flesh pits, but wasn't completed. Shang-Tsung had plans for another creation, a creature of pure evil, that thirsted for human flesh, blood, and souls. He then started creating the creature known as Dreadnaught. Dreadnaght after years of experimentations Shang-Tsung was successful in creating Dreadnaught, an zombie who's soul purpose was to absorb other creatures making himself stronger. Dreadnaught momments later on, absorbed most of the flesh and blood within the pits making himself even more powerful. Shang-Tsung was most impressed by this feat. With this victory was at-hand. Shang-Tsung first though had to test his skills in combat. Dreadnaught was thrown in the abyss where all the toughest, wicked, cruel, gruesome creatures live. Constant fights, blood-shed, screams of pain, agony, could be heard in every direction. This would be Dreadnaught's ultimate test, all he has to do is survive and bring the head of Dremora, a very powerful demon that resides in the abyss and controls most of the demons that live there. Dreadnaught will not fail his creator. Dreadnaught smiled, and started his task. He killed devoured, slaughter, absorbed many creatures, while laughing insanely. Dreadnaught loved the smell of flesh blood in the air, the screams of agony, anguish, the cries of pain, and the smell of death. It brought him much joy. He soon covered the abyss with left over flesh and blood everywhere. He then saw the castle more then likely where the demon lord resided in. Demons were surrounding the entire castle, they were waiting for Dreadnaught to appear. They charged in head-on, Dreadnaught smiled again.
'Yes! Yes! Hurry! Come at us! Hurry and meet death!
Dreadnaught lets out a loud scream of joy, he then gets on his knees as the eyes of the right shoulder started glowing red as the color of blood as hands started bursting from his back and reached out grabbing some of the demons and dragging them into Dreadnaught making him more powerful each flesh he absorbed. Dreadnaught then jumps up and landing into the middle of the demon army (while more of the undead hands kept on grabbing demons left and right)swinging his blade wildly, killing demons left and right. While the demons who were lucky enough to avoid his blade, were able to to stab Dreadnaught in the chest with their blades, claws, and spears. But this didn't weaken him one bit. As Dreadnaught's blood begin to spill, the wounds started creating shadow like creatures that would come fourth eating and devouring the creatures. The demons knowing they cannot win try escaping but no-one cannot escape death. Soon later no-demon was left standing, only Dreadnaught and his shadow like creatures were left standing. Dreadnaught then continues his task and walks inside the castle and into the throne room. As he enter the throne room, Dremora the demon lord was sitting on his throne as he was waiting for Dreadnaught to come. Dreadnaught stopped in the middle of the throne room.
Here at last i see....You are the one responsible for killing my entire demon army. For that i am going to destroy you and rip you limb from limb and feed on your flesh.
Hahahaahahahahha that sounds fun, shall we begin then?
Dremora smirked and slowly risen from his throne.
As you wish.
Dremora held out his hand, and fired many fireballs at Dreadnaught, Dreadnaught didn't move or nothing, he stood there and took every single blast of fire without flinching, Dreadnaught's right arm fell to the floor along with pieces of his flesh. Dremora kept firing fireballs at Dreadnaught, but Dreadnaught only stood there, letting his own limbs fall to the ground. Dreadnaught smiled and laughed and laughed, enjoying every-bit of this. Dremora stopped firing.
Our turn yet?
Dremora, not taking any chances turned his claws on fire and charged at Dreadnaught, Dremora sliced Dreadnaught's head off, and shredded the remains into little pieces. Dreadnaught's head landed on the ground staring at Dremora. Dreadnaught's head then being to form into darkness, and then the whole ground was covered in pitch-black darkness. Dremora stunned in fear didn't know what else to do, as he saw the demons that served Dremora will coming out of the pitch-black ground. Dreadnaught emerge from the abyss carrying the head of the demon lord, Shang-Tsung awaitied for Dreadnaught and was deeply impressed.
The head of the demon lord, with this Shao-Kahn would be pleased to hear of one of his arch-rivals is now dead. You have served me well. I have one final task for you. I want you to enter Mortal Kombat and act as the semi-final contested, and kill all that oppose our lord. If you do this and win, Shao-Kahn will greatly reward you.
Hmmm we could care less about Shao-Kahn nor you but however we will do as you say and kill everything that stands in our way. I am only doing this to test our own abilities, the demon lord's death means little to us he was a weakling.
I created you, i can destroy you easily so watch your tongue Dreadnaught.
Hahahahaaha we would like to see you try Shang-Tsung, but if you do fail you will join us, the ranks of the undead.
....
Thought so.
Special Moves
Living Nightmare: Necrotic Burst — He will grab the opponent, pick them up off the ground, then slam the opponent hard to the ground, creating a pitch-black wave on impact.
Living Nightmare: Darkness Rush — he will send a bunch of undead shadow like creatures from within his body, these creatures will charge head out, biting, clawing, the opponent.
Living Nightmare: Reaper's Reach (Air) (Ground) — He will extend his right arm to the opponent and grab a hold of the opponent and bring the opponent right infront of Dreadnaught, he can also use this move while in the air, pulling the creature up in the air.
X-Ray Move
Insane Rush — Dreadnaught will dash forward at high-speed towards the opponent holding his right arm back, then once in front of the opponent, Dreadnaught will grab a hold of the opponents face, and slam it down hard to the ground (showing the opponents skull cracking), then starts laughing like crazy and while holding the opponents head, started banging the opponents head on the ground x5 (each time he slams the opponents head on the ground more of the opponent's skull breaks.)
Fatality
Quicking Darkness — Dreadnaught will smile insanely, the eyes on the right of his shoulders will start glowing red, then the right side of starts fading away into shadows, then the shadows start forming into multiple creatures out of shadows with thirteen eyes each glowing red. These creatures will then run forward and eat the entire left side of the opponent, the opponent falls to the ground, bleeding to death, screaming in pain, the creatures then fall back into Dreadnaught, he will then walk up slowly towards the opponent. Dreadnaught starts laughing crazy, he then kneels down, places his hands on the opponent's leftover face, and these shadow like hands come from Dreadnaught's chest dragging the opponent within Dreadnaught killing the opponent and making him part of Dreadnaught.
Hands From The Grave — Dreadnaught will smile once more insanely, the eyes on his right shoulder will begin to glow light purple as Dreadnaught's shadow will extend forward underneath the opponent, then undead hands will come fourth from the shadows and grab ahold of the opponent and start tearing the opponent limb from limb. Then the hands will go back into the shadows carrying the pieces of the opponent.
Description
Besides, being about 5ft tall, he has dark purple skin, wearing half plated armor that only guarded his left side and up to his rib-cage while his right side was vulnerable. The armor he is wearing has bones, spikes hanging out, the right shoulder pad is two bone hands clutch together around his shoulder .He has 6 eyes on the right of the shoulder that glow red, (they blink and move around to), he has long black finger nails, he also wears an helmet (the helmet is kinda mixed in with Dreadnaught's skin so its a fusion of boh) that blocks the left side of his face, while on the right side of his face its all decayed looking, with purple glowing eyes. He is also wearing metal grieves (foot-wear). His armor is the color of black.
Biography
Raven or that's what he calls himself now, was a hired assassin and was one of the best assassins. He skills and talents were often compared to Sub-Zero (Noob-Saibot now) from the lin-kuei. He was born in Osaka, Japan. At the age of 6 his parents were killed and he was send off to his grandmother while he was living with her, he trained under the arts of killing (Ninjutsu) by his grandmother *name *. Who at her time was considered one of the deadliest warriors and deadliest Ninjas. Many more years to come he became one of the worlds (mortal realm) top warriors and assassin. But that wasn't enough for Raven, which that title means little to him. He later on came across a contact Shang-Tsung, who was inviting warriors to Mortal Kombat (this is the 7th tournament). Shang-Tsung offered Raven an invitation to participate in Mortal Kombat. Raven seeing another chance like this won't happen, he joined Mortal Kombat, for the soul purpose on becoming the world's deadliest warrior and champion. After defeating countless opponents, nothing stood in his way on becoming champion of Mortal Kombat. His final battle was the current champion Shang-Tsung himself. Raven at first had the advantage, but that soon changed, Raven had fought well but was to powerful for the assassin. Shang-Tsung toyed with him, first by slicing his left eye making him partially blind, cutting off his right arm, and then beat the remainder of his life out. Raven eventually was defeated by the sorcerer. Raven lying in a pool of his own blood, got up standing on his knees, coughing up more blood, waiting for the last blow to end his life. Shang-Tsung killed Raven, and absorbed his power. Raven's true hell begins. His soul since it was full of sin, was hurled into the 6th layer of hell, where the remaining pieces of his soul (body) was ripped apart by demons, devils, and the dammed souls. Lying on the ground, the demons continue to rip him apart. Refusing to lose, his remains began to consume the shadows and the demons. ''My body was soon absorbing the shadows, reforming my lost limbs, adding my right arm back but as shadows, adding sight back in my left eye, and my body was once more whole. I then begin absorbing the demons, the souls, and the devils to my power making me even stronger, I can feel their power surging through my body. I had left my old name behind and became ''Raven''. I was no longer human; I was reborn within in the netherealm, as a wraith, a ghost full of hate and darkness. A creature the consumes darkness and flesh. But this came with a price, all but one of my memories were gone. The only memory that is left is the man who killed me Shang-Tsung! My body will never forget nor forgive the man who has killed me.''
After becoming whole once more, he trained in his new body, becoming twice as stronger then his former self, becoming darkness itself.
''I was fueled by hate and revenge. I wanted to avenge my own death and kill Shang-Tsung and consume his soul to the never ending darkness!''
After his training was finished, he traveled through the netherealm and found a portal leading into the mortal realm. There he wandered the realm searching for Shang-Tsung. Shang-Tsung then hosts the tournament Mortal Kombat (MK: 2011) once again. Raven enters the tournament and fights to avenge himself by winning and killing Shang-Tsung
Special Moves
Ninja Art: Instant Killing Blow (Counter) — Raven after blocking the attack from the opponent, he will counter attack by punching the opponents chest creating a red small wave sending the opponent flying back.
Ninja Art: Shadow Limbs — Raven using the shadows, turns the ends of his clothing into pure shadows, these shadows will also attack the opponent during combos only. Giving him two hits.
Ninja Art: Killing Blow — Raven will dash forward and punch the opponent's chest creating a blue small wave that sends the opponent flying back. (Not as strong as the counter)
X-Ray Move
Ninja Art: True Killing Blow — Raven will dash forward at high-speed toward the opponent punching the stomach creating a black small wave, (destroying most of the bones of the opponent's rib-cage and some of the organs) and then he will spin around the opponent and elbow them in the back creating another black small wave (that instanly destroys some of the opponents spinal cord) sending the opponent flying back.
Fatality
Ninja Art: Living Shadows — Raven, will dash forward leaving a trail of shadows behind him, going through the opponent. The opponent doesn't feel anything, but the trails of shadows are surrounding all around his body, and then suddenly, the opponent is sliced to hundereds of pieces. (Raven cut through at high-speed, the shadow trails are the places where he has sliced the opponent.)
Description
Besides, being about 6ft tall, he has long white hair on the right side that reaches down towards his torso area covering his right eye (his right eye color is yellow), his left eye socket has shadow energys emerging from it, he wears a long black opened cloak that reaches down to his knees and the desins on the cloak are orange, he has bandages around his torso, his right arm has shadow energies swarming around acting like his arm, his left arm is covered in bandages but they are pitch-black, he is also wearning black ninja pants, and has open scars all over his body, they are however bleeding shadows instead of blood.
Akara
Age
17,354,327
Height
17' 10"
Weight
1075 lbs.
Resides
Outworld
Origin
Outworld
Species
Outworlder
Allies
Blaze
Enemies
All Kombatants
Weapon
Electric Blade
Monster Daggers
Fighting Style
Dragon
Ninja
Mercenary
Alignment
Neutral
Biography
Akara was one of the best soldiers of Onaga, Akara wanted to be King of Outworld, so he killed Onaga with Shao Kahn but he betrayed Akara and took Onaga's place as king. Akara promised to Kill Shao Kahn.
Special Moves
Rhino Charge — Starts a Running Charge to stun the other player.
Face Throw — Holds onto the other player's face and throws it on the ground
Uppercut Kick — Uppercuts the player and Akara jumps to kick the players
X-Ray Move
Breaks the jaw, Kicks the face and insert his elbow onto the spine
Fatality
The Invisible Torture — Akara turns invisible and starts to torture the player.
Description
Akara is in a red ninja suit, his skin is grey and scaly, He has a skull mask with horns and Black boots with a green emerald on it
Biography
Born in Earthrealm, he was a member of the White Lotus Society. He met Liu Kang along with Kai who happened to be in America at the time, recruiting to train a new generation of Shaolin warriors. He went to China to train with Kai, Kung Lao, and Liu Kang. Then after a few years later, Tairo broke away from the Society, and went to become an assassin. He was hired by Quan Chi and Shang Tsung to kill Shao Khan. When he was about to go to Outworld to face Shao Khan, Quan Chi and Shang sent his minions to take Taiko out. Taiko killed every minion that Quan Chi and Shang Tsung had, and got so pissed that his new mission is to kill Quan Chi, and Shang Tsung. Taiko, then went back to train with the Shaolin warriors again, hoping to become more powerful. After many years of intense training, the Mortal Kombat tournament was happening, hearing it was a tournament where Shang Tsung was competeting. Taiko entered in th tournament, hoping to end Shang Tsung's life.
Special Moves
Fireball — Taiko blasts a fireball at his opponent similar to Liu Kang's Dragon Fire. Upon contact, the projectile will set the opponent on fire dealing extra fire damage. It will also disable the opponent for free hits while on fire.
Corkscrew — Taiko tackles the opponent in a similar manner like Raiden's Torpedo but spinning.
Air Throw — Taiko throws his opponent across the arena.
Fire Stream — Taiko calls downs a stream of fire from the sky on his opponent.
Teleport Uppercut — Taiko teleports downward, then reappears below his opponent coming up through the ground, punching his foe into the air.
X-Ray Move
Charging Takedown — Taiko tackles the opponent, disorieting them, followed by an elbow to the top of the head, crushing it, then him breaking their arms and legs, finished off with him jumping onto his opponent's chest.
Fatality
Body Ripping Kick — Taiko thrust his leg right into the opponent's chest, causes the arms, torso, head, and legs to rip off from each other, then he ignites his victim on fire.
Description
He wears a black ninja suit without the mask, similar to Reiko from MK4, but black and has long skin tight sleves. He wears a black headband around his head, and has white markings/paintings like Kai but on his face.
Biography
After the events of Armageddon, he was chained in Kahn's arena and witnessed the battle scene. He knew what was going to happen after reading Raiden's mind. After going back to the time where the tournament started, he learnt his true past and found out that his father was Shang Tsung. He knew there and then that a sign of evil is about to commence! With the aid of Raiden and the Edenian Force, he determines to defeat Shang Tsung and Shao Kahn before the time is up!
Special Moves
Crystal Ball — Orostano throws a Crystal Ball at the opponent towards the chest.
Reign of Fire — A green heavy fireball is thrown at the opponent by tossing it up in the air and whacking it at the face!
Stomp to the Head — He stomps towards the player and jumps and lands on the opponents head.
Nature Disaster — Orostano tosses Poison Oak leaves at the opponents face stunning them for 5 seconds.
X-Ray Move
Back Breaker — Orostano grabs the opponent by the ear and twists his neck and the opponent lands on the ground. He then jumps on the back once and comes off.
Fatality
Edenian Rule — A large sword from Edenia appears and Orostano uses his mind to control the sword and slices the body of the opponent into million pieces.
Stomp to Head — Orostano turns invisible and jumps on the head of the opponent and reappears and kicks the head off.
Character Relationships
Childhood friend of Taven and Ermac.
Met Kitana, Jade and Sindel at the Edenian Battle Grounds and agreed to search for Liu Kang's Corpse.
Fought Scorpion and won on the way to the Wu Shi Academy.
Allied with Kung Lao and Ermac to find Liu Kang's Corpse.
Killed Mileena and Sheeva near the Outworld Portal.
Captured by Sektor and was saved by Taven.
Allied with Sonya, Jax, Smoke and Cyrax to find Kano and Shang Tsung.
Saved Sub-Zero from being killed by Frost.
Revived Johnny Cage after the Deadly Alliance killed him.
Fought Quan Chi and Reptile while with Kung Lao, Kitana, Jade, Sindel and Ermac.
Revived Liu Kang with Ermac and himself's power.
Captured by Shao Kahn and was chained up in his arena.
Witnessed Raiden and Shao Kahn battle.
Freed by Shang Tsung in the body of Raiden.
Fought Tsung but failed to defeat him.
Betrayed by Smoke and was taken to Tsung's lair.
Saved by Sonya, Jax, Cage and Cyrax.
Killed Tsung and Kano along with Smoke.
Revived Smoke and became allies again.
Joined the Forces of Light in the Battle of Armageddon.
Biography
Cyro is Frost's older brother. He left their family seeking to increase his fighting skills and his mastery over ice, something he inherited from his father, who died ten years ago. In his journey he fought many warriors and was always victorious. That was untill he found an adversary with the same powers as him, Sub-Zero. Cyro fought well but the powers of the great Lin Kuei warrior were too much for him. Facing his first defeat Cyro walked away ashamed, not hearing what Sub-Zero had to say to him. He swore to gain enough strenght so he could one day defeat Sub-Zero.
Years passed and Cyro came to know of the Mortal Kombat tournament, hearing it was a tournament where the greatest fighters in the world competed he decided to enter, hoping to find and defeat Sub-Zero.
Special Moves
Freezing Wave — Cyro moves his arms forward with incredible speed and a wave of ice comes out of them freezing the opponent.
Ice Pillar — Cyro puts his hands on the ground causing it to freeze and sharp ice pillars to move in the direction of his opponent.
Surfing — The ground beneath Cyro's feet freezes and his able to dash forward, punch his opponent in the stomach freezing it and then he sends him backwards with an uppercut.
Arctic — Cyro launches a Ice Blast towards the opponent's feet freezing them and then performs a flying kick to his chest.
X-Ray Move
No Escape — Cyro grabs his opponent's neck freezing him, hits the opponent on the rib cage shatering it and then with and headbut brakes his jaw.
Fatality
Death is Cold — Cyro creates a sword of ice and dashes towards the opponent cutting him in half.
Homerun — Cyro freezes the opponent, rips one of his arms and hit the opponent's head with it decapitating him.
Animality
Cyro tuns into a Polar Bear and punches his opponent head decapitating him.
Friendship
Cyro creates an ice sculpture of his opponent and bows.
Trivia
The Sub-Zero Cyro fought was in fact the Older Sub-Zeo and when Cyro confronted the younger one, he knew nothing about Cyro and was impressed by Cyro's control over ice. But Cyro misread that and thought he was only moking him, something that made him grew angrier and angrier
Phantom
Age
Immortal
Height
7' 9"
Weight
213 lbs.
Resides
All Realms
Origin
Unknown
Species
Elemental
Alignment
Good
Biography
Phantom is an agent of Raiden sent to the past to help with Armageddon, but was pushed back too far. phantom stayed and became a trainee of Tremor's, hiding as an agent of the Special Forces and a Shaolin Monk. He took a blade from Tremor's stash and used his abilities over his orange goo to change it's appearance and size. He encountered Motaro in his journey after defeating his master and used the tail from the centaur to enhance himself. His time travel has caused a lag in the timelines dragging other timelines in as well, such as bringing his childhood mentor Calten to the past and has ressurected The Great Kung Lao. He is now a wanderer searching for crime when justice is needed. His ultimate goal is to bring down Hotaru for attacking his friend and mentor,Calten, who came with him from the future.
Special Moves
Plasmatic — an orange forceball, similar to Johnny Cage's.
Slashtec — Phantom stabs the foe and then slashes to the side with his backhand blade
Dissipate — Phantom cloaks himself in goo and switches positions with the foe.
X-Ray Move
Phantom kicks their chest, breaking ribs,and while they're on their knees, he gently pushes on the back of their neck with his sword with goo on it, damaging their tissue,and kicks their butt, pushing the spine upward into the brain.
Fatality
Finale Burst — Phantom pulls the foe's shoulderblades out of the foe's back and stabs them in the eyes,and from the wounds Phantom pushes plasma into the foe's body. Phantom proceed to uppercut the foe's head off,rupturing the plasma,causing the body to implode and the plasma to become a small ball in Phantom's hand. Phantom then fires a laser of plasma at the falling head,seperating the shoulderblade from the eyes. Phantom catches a shoulderblade and throws it like a shuriken,landing in the victim's frontal lobe.
Wang Shah & Dee Xiang (Mayor Zain)
Biography
He was once battling against Sektor and won. Wang Shah went to search for Raiden and found him battling Shao Kahn. Later, he found himself in the 1st tournament, not knowing what happened, he had known then that he had to end the Tournament then and there.
While in the middle of fighting Quan Chi in the living forest, Dee Xiang found himself alone all of a sudden with no-one around. He then found himself at the Throne Room of Shang Tsung, watching a battle. He knew that a bad thing was to happen. He then entered the 9th tournament and fought for the war to end!
When they were both outside the Palace, they had found out they had the same mission to complete. They both allied and bacame the Choy Tee Force.
Special Moves
Wang Shah:
Earth Power — Wang Shah does a torpedo towards the opponent then kicks the opponent on the chest.
Light of Destiny — Wang Shah throws a light ball at the opponent.
Dee Xiang:
Netherrealm Heat — Dee Xiang does a flip kick towards the player then throws a flame ball at the opponent.
Grenade Launch — Dee Xiang throws 2 grenades, one in front and one behind the opponent, then explodes which launches the opponent in the sky.
Tag-Team:
Heat Wave (if fighting as Wang Shah) — Dee Xiang will be behind Wang Shah and will toss a ball of fire at the opponent!
Natural Resource (if fighting as Dee Xiang) — Wang Shah will stab the opponent with the nunchaku!
X-Ray Move
Choy Tee Pounce — Wang Shah twists the opponent's neck and kicks the stomach, then Dee Xiang does a handstand on the back then flips and lands flat on the opponents on the back
Fatality
Nature's Desire — Wang Shah pierces the stomach with his nunchakus, then yanks them out, after, he pulls the main body off!
Netherrealm Revenge — Dee Xiang creates a large fireball then throws it at the player, but doesn't explode. He then spins really fast causing wind which sends the body pieces flying, leaving the internal organs floating. He then explodes everyone of them.
Ckameleon (Ddill)
Biography
Ckameleon is was from the Same Race as Reptile, Khameleon and possibly Chameleon. His realm was destroyed by Shao Kahn. Unlike Reptile, he new who destroyes his realm. He teamed up with Khameleon to Stop the Forces of Darkness.(including Reptile Chameleon and Shao Kahn)
Biography
Shaakas is a demon but he could make a fully human body. He used to serve Shao Kahn as a Shadow Priest but escaped when the Empreror was killed by the Deadly Alliance. From that moment he develops his powers and gets ready for Armageddon. His aim is to defeat Blaze and take all the power to himself and to conquer the realms.
Special Moves
Death Fireball — Shaakas shoots a dark fireball into an enemy.
Throughout Run — Shaakas run throughout his enemy, making him stop.
Forwardflip kick — Shaakas jumps forward making a salto with a strong kick.
Throughout Jump — Shaakas jumps throughout his enemy making him stop but when he has almost came throughout his enemy he grabs enemy's head with his legs and throws an enemy forward.
Teleport Throughout Stomp — Shaakas teleports into the ground and jumps under his enemy going throughout him making enemy stop. hen he lands onto his enemy.
X-Ray Move
Inner Break — Shaakas turns his enemy behind him. Then he takes his arm throughout his enemy and breaks his enemy's ribs from the inside. Then he gets out his arm and strikes his enemy at the back with his second arm. This breaks his enemy ribs from the back and pushes his enemy away
Fatality
Spine Stab — Shaakas runs through his enemy ripping away his spine than runs back through his enemy stabbing the ripped spine into his enemy's neck.
Heart & Brain — Shaakas gets his arms inside his enemy and quickly rips away his enemy's heart and brain. Then he covers them with energy and gets back in wrong order: heart into head and brain into chest. For some seconds he watches his enemy shouting in pain and then activates the energy making the heart and the brain blow up with enemy's head and chest.
Hara-Kiri
Skull Rip — Shaakas gets his arm inside his head and rips away his skull.
Description
Shaakas wears fully black costume similar to ninja but without mask. Also at his chest it is covered with purple jacket. He has black moustache and beard.
Biography
Shadow is an assassin that worked for whoever paid the most, whatever the job was. An anonymous person hired Shadow to kill Goro, so he went to the Mortal Kombat tournament hoping that he will kill him.
Special Moves
Shuriken Throw — Shadow throws a few shurikens at the enemy.
Ninja Speed — Shadow runs over the enemy at a really high speed.
Shadow Ball — Shadow will launch a ball of darkness from his hands toward the enemy.
Dark Throw — Shadow would throw the opponent on the ground, while leaving a dark misty trail.
Thrusting Punch — Shadow will thrust toward his opponent with his fist leaving a shadowy trail.
X-Ray Move
Body Breaker — Shadow kicks his opponent in the torso, making the opponent bend over, then jumps onto the opponent's back, breaking it, then twist the oppoenent's neck.
Fatality
Shuriken Barrage — Shadow would throw a multitude of shurikens at the opponent, covering the entire body.
Execute — Shadow would teleport behind his opponent and grab his sword and cut their neck off.
Ari Kahn (MKool)
Biography
Ari Kahn was Shao Kahn's son, Ari protected Shao Kahn. Ari killed everyone in his way. Shao Kahn was impressed, so he entered Ari in the Mortal Kombat Tournament, he was the Grand Champion 10 times in a row. Soon he was forgotten, Now he will come back and take his place as Grand Champion. All kombatants shall soon worship him.
Special Moves
Swipe'd — Hits the opponent 4 times and stabs the head with the sword.
Tired — Throws the opponent on the floor and stabs him/her in the back.
World Travel — Punches the opponent and he/she flies off-screen and Ari throws a sword and the opponent appears on the opposite side with a sword on his head.
X-Ray Move
Freestyle —He kicks the opponent in the groin and elbows the head.
Fatality
Sword frenzy — Ari gets his swords and slices him/her in pieces and walks back and throws a sword on the face.
Ad blocker interference detected!
Wikia is a free-to-use site that makes money from advertising. We have a modified experience for viewers using ad blockers

Wikia is not accessible if you've made further modifications. Remove the custom ad blocker rule(s) and the page will load as expected.