hey peeps im 13 and inm new and all and im a big well a huge fan of mk. and just wanted to see who else is if you are as big of a fan as i am please write back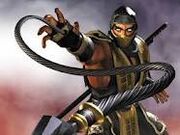 .
oh and did i say that scorpion is my favorite character in the whole game. now x ray mode is just plain awesome in the new mk. the best part of the new mk is everything. (love the gore)
Ad blocker interference detected!
Wikia is a free-to-use site that makes money from advertising. We have a modified experience for viewers using ad blockers

Wikia is not accessible if you've made further modifications. Remove the custom ad blocker rule(s) and the page will load as expected.