Last month was just yesterday, and we did Rain, but now, lets do the one Cyborg/Human everyone loves... Smoke!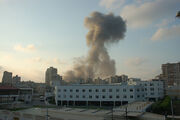 When Smoke shows up... its always a fight! Now, if only Noob (not Quan Chi disguised as him or what ever they did) appeared also... well, lets just say THIS would happen!
Smoke is like Pinnochio... a wooden puppet that wants to be a real boy. How ironic? Now, trust me, Smoke is my all-time favorite kharacter... next to Johnny Cage, Kano and Scorpion. I would love for Smoke to be in Legacy. Wouldn't you?
Daily Poll
Who should be in the next blog?