It was a week after my first job. That Trashcat better watch his mouth next time.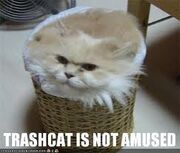 Officer Kittynip: Catz! Get yer butt over here!
I'm Katz Briggs. Special forces.
Katz: Yes, sir... er.... kitten!
Officer: Shut up, Katz! I want you and your crew to investigate a prison riot... thats happening as we speak.
My reaction? This:
Officer: YOU CANT HAS MISSION...
Me: Lolwut? You iz kiddin me, right?
Officer: YOU CANT LET ME FINISH SENTENCE?
Me: ....sorry, boss.
Officer: Aye Caramba! Not yet, moron!
Me; Oh, me iz sorry.
Officer: We're DONE talking like that!
Me: 0_0
Officer: You need training!
Me: But didn't you see how I pummeled that Trashcat?! I can skip it!
Officer: Fine. But its dangerous to go alone!
Me: You gives me stuff?!?!
Officer: Yes. I gives you stuff. Here: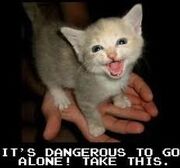 Me: Uuuh... what is that... thingy?
Officer: It a partner!
Partner: XD! XD! XD!
My reaction: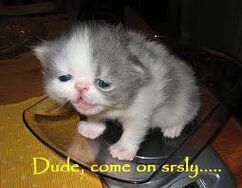 Officer: yeah, srsly!
Me: He goin' ta cramp meh style!
Officer:What style?
Partner:XD!
Me:Fine, dude, I'll take it with meh. Happeh naow?
Officer:Sure. One question, though...
Me:What?
Partner:XD?
Officer:You's can promise to come back alive?!
Me:What evs.
Partner:XD.
And soe teh epic jurneh beginz!
You only reads prologue
you need reads rest of it
so reads EM's next one
it be cooler
NEXT TIME
LOLCat: Special Forces teh jurneh beginz
Ad blocker interference detected!
Wikia is a free-to-use site that makes money from advertising. We have a modified experience for viewers using ad blockers

Wikia is not accessible if you've made further modifications. Remove the custom ad blocker rule(s) and the page will load as expected.