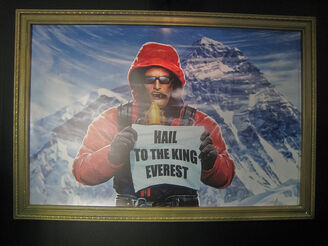 Battle Cry: "I'm not gonna fight you, I'm gonna kick your ass!"
Outro: He sticks a cigar in his mouth and light it and starts smoking.
Special moves:
He shoots the enemy with an RPG.
He Shoots the enemy with his signiture Colt M1911.
Balls of steel: He goes into Nightwolf's
reflect stance (this only work on Johnny Cage's Ball Buster) Johnny walks away holding his wrist yelling "OOOOOOWWWWWW!"
Fatalies:
He Mighty Kicks the enemies torso off. (up,down,down,left (or right),X) (this is a copy of Reiko's MK4/MKG fatality)
Duke grabs the enemies head and says "I'm gonna rip off your head and shit down your neck!" then he rips off the enemies head and throws it at the camera covering the camera with blood, your can still hear farts though. (down,down,down,Y)
Babality:
He looks off screen pull out a money clip and says (in a high pitched voice) "Shake it baby!" (left,right,down,right)
Stage Fatality:
He shoots the enemy with an RPG knocking them off the map.(down,down,down,B)
Ending:
POST IN COMMENTS WHAT YOU THINK HIS ENDING SHOULD BE!!!*
Allies:
Kitana
Jade
Sonya
Enemies:
Mileena (should have kept the veil on)
Sindel (he thought she was old)
everyone else
Trivia:
His fatalities resemble teabagging :3.
He says his signiture one-liners mid fight.
Ad blocker interference detected!
Wikia is a free-to-use site that makes money from advertising. We have a modified experience for viewers using ad blockers

Wikia is not accessible if you've made further modifications. Remove the custom ad blocker rule(s) and the page will load as expected.