Comments

2
EVO 2011's Mortal Kombat 9 Tourney is Happening Right Now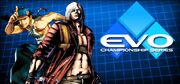 The definitive North American fighting game tournament,
EVO 2011
, has just started mere hours ago. Now you can watch all the intense action in two different ustreams, courtesy of our friends at Evo2K.com.
The Mortal Kombat 9 portion of the tournament is running right now, and be sure to check it out in the stream below.