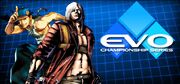 The definitive North American fighting game tournament,
EVO 2011
, has just started mere hours ago. Now you can watch all the intense action in two different ustreams, courtesy of our friends at Evo2K.com.
The Mortal Kombat 9 portion of the tournament is running right now, and be sure to check it out in the stream below.
Ad blocker interference detected!
Wikia is a free-to-use site that makes money from advertising. We have a modified experience for viewers using ad blockers

Wikia is not accessible if you've made further modifications. Remove the custom ad blocker rule(s) and the page will load as expected.