Sorry its been awhile, but anyways besides the audio leak that maybe shows up more possible leaks for (and sorry for any misspellings- Shao-Kahn (we all know he has to be in lol) , Noob-Saibot, Smoke (Human) (i think someone else posted a picture of him but anways i will post it up again) Shang-Tsung, Quan-chi, Kabal, Goro (i posted a picture of him so he is in i think) Sindel, and acourse Ermac (i posted up a picture of him too).
Regarding that, i was looking on Yahoo images for Mortal Kombat (2011) and i saw this Quan-chi Picture. It was on Mk Online i think. But anyways here. He looks badass BTW. Oh the smoke picture that i saw that wasn't really him someone else have made thier own desin of him but nevertheless it is badass and it should be his desin in MK (2011)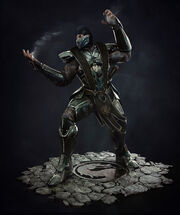 Ad blocker interference detected!
Wikia is a free-to-use site that makes money from advertising. We have a modified experience for viewers using ad blockers

Wikia is not accessible if you've made further modifications. Remove the custom ad blocker rule(s) and the page will load as expected.