Game Developer's Conference (GDC) is the world's largest and longest-running gaming professionals industry event. The conference contains 400 lectures, panels, tutorials and round-table discussions on a comprehensive selection of game development topics taught by leading industry experts. GDC 2013 begins March 25th and lasts March 29th.
This year, Mortal Kombat (2011) will feature a panel discussing the design of humor in the game. The session summary can be found below. We would like to ask, is there any elements or details of this session that you would be interested in getting more information about? How about any questions that you would like answered? Let us know in the comments: we will be attending this session, and can help gather the answers you seek!
Mortal Kombat Story Mode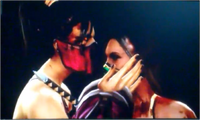 The last two Mortal Kombat titles, as well as the highly anticipated upcoming title "Injustice: Gods Among Us," features a story mode with rendered movie footage equivalent to a full-length film. This talk will cover some of the technical challenges and the implementation process when movies are used in our games. The talk will cover seamless transitions, custom file IO, minimization of resource contention with simultaneous movie playback and level data loading, pre-caching and off-line metadata extraction for hitch-free playback, jitter window detection, and implementing a movie decoding pipeline.
Ad blocker interference detected!
Wikia is a free-to-use site that makes money from advertising. We have a modified experience for viewers using ad blockers

Wikia is not accessible if you've made further modifications. Remove the custom ad blocker rule(s) and the page will load as expected.