Ed Boon was saying when he made Nitara in Mortal Kombat Deadly Alliance, he said the idea was to make a female vampire and a male vampire, but they had run out of time. So I'm suggesting they should put Kahil Grigesh in MK2012 DLC. I done two screenshots on my avatar on www.IMVU.com to show how Kahil should look in MK2012 and see if his looks are better than the pic of him which is unfinished.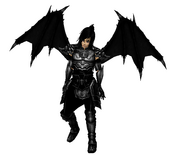 The first screenshot here is a picture of my avatar on www.IMVU.com, a pair of black wings much different to Nitara and grey dragon armor and a very light yellow skin, he's got myst eyes.
And second screenshot is showing the side of him, he has black Japanese samurai hairstyle and a ponytail tied up at the back.
Any suggestions? do you think he should be in MK2012 along side with Nitara? because after Nitara's realm was taken by Shao Kahn, some vampires were along with her during the deadly alliance.
Ad blocker interference detected!
Wikia is a free-to-use site that makes money from advertising. We have a modified experience for viewers using ad blockers

Wikia is not accessible if you've made further modifications. Remove the custom ad blocker rule(s) and the page will load as expected.