Comments

38
Mortal Kombat Arcade Kollection Release Date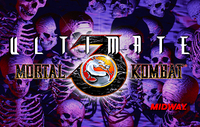 The Mortal Kombat Arcade Kollection which is comprised of Mortal Kombat, Mortal Kombat 2, and Ultimate Mortal Kombat 3 will be released next week on August 31st on XBox Live, PSN, and PC. It will run $9.99 on the Playstation Network and PC, and 800 Microsoft Points on XBOX Live.
The game features trophies, leader boards, achievements, and online play.
Is this game going to be something that you are picking up?
Source