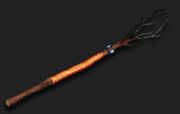 The
Wind Staff
is a scrapped mystical weapon originally planned for the wind god
Fujin
to use in the early versions of
Mortal Kombat: Armageddon
. A concept art can be found for this object in the
Krypt
.
Some beings say the mysterious "Forest Crystals" adorning this ancient tree branch is the source of the wind god's power.
Gallery
Ad blocker interference detected!
Wikia is a free-to-use site that makes money from advertising. We have a modified experience for viewers using ad blockers

Wikia is not accessible if you've made further modifications. Remove the custom ad blocker rule(s) and the page will load as expected.